OK, so Chris left us on the 22nd of April to go to America. A lotta bullshit went down, that I really don't want to get into because it's just SHIT (dumb american CRACK whore that TRIED to start shit anyway - SUCKER!!)... but anyways, instead of staying three months, he had his tickets brought forward and he is home with us where he should be. YAY!!! the kidsmissed him dearly, i missed him dearly and all he wanted to do from the minute he arrived there was come home to us! lol
I haven't had a lotta work lately - but just enough. It's good that I am learning a new style of coat too. My workmate refuses to do them, but If I learn (which I am excited to do!) then it will mean that my hours may just go up a fraction. I just hope I can make them quick enough AND neat enough. These coats are soooooo top of the range! No margin for error really, but I'm happy for the challenge. I can't wait to get a handle on the ropes properly - I'm still sewing with my Ls for Claybourn. TACC I can do with my eyes shut! lol but Claybourn are very different...and very HEAVY omg!! I'm going to have muscles in places that I didn't even know exisisted! lol.
I made a LO of the next retreat we are going on. I know I haven't even posted about the Tambo retreat yet...I will soon! lol... but I just wanted to share this first...
the beautiful Scrapmanda from SM forums has organised the next retreat at Warana..it is going to be soooo cool because this time I won't have to leave early!! The gorgeous gypsyangel organised the one at Mt Tamborine and I tell ya - I just felt so comfortable with everyone...I hope I didn't embarress anyone LOL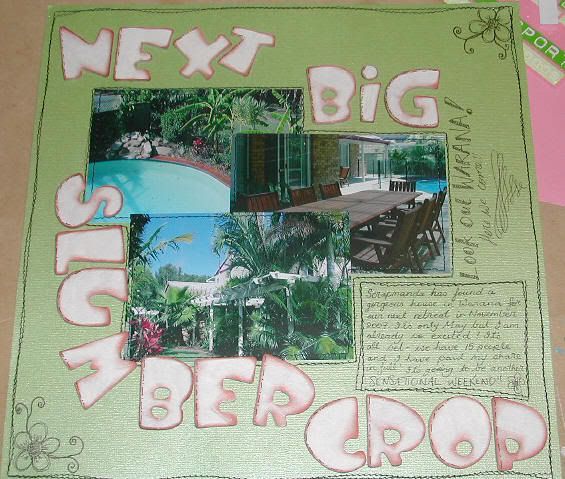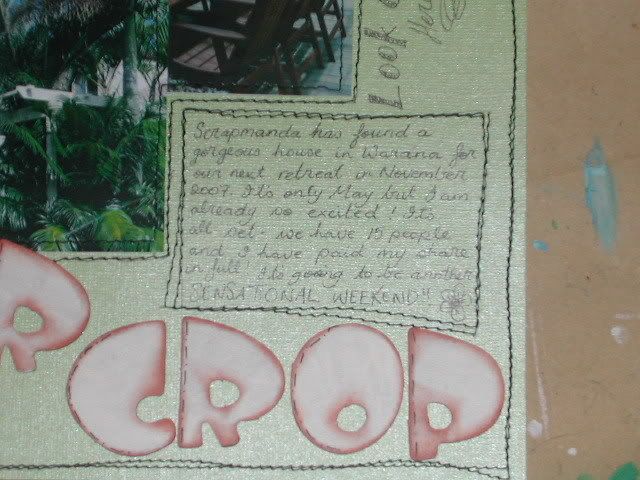 I am a moderator over at Scrapbooking Memories forum now. It is great! I get to delete spam and ban spammers!! muwahahaha...instead of reading the crap! I did have a person trying to make it hard for me at first - by telling me that this other member (all will be un-named - but if you happen to stumble across this - you may know who you are) would try to make it really hard for me...what a twat!? ah well, i hardly talk to her anymore and I can honestly say I'm glad. Yunno I thought i really liked this person - I really did - and who knows IRL we might get along if we ever meet...but online i think she is a bit of a stuck up lunatic TBH!
OH OH OH!!!! I got a new tattoo a week and a bit ago!!! I am so in love with it!! it cost $280 EEK!! but Chris paid half and my half I'd been tucking away bit by bit for yonks!! lol
here it is...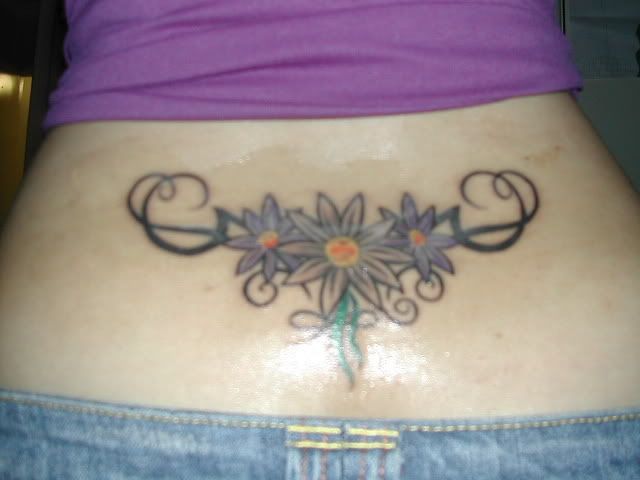 I guess I better post a LO I did in the last couple of weeks...haven't done much scrapping at all while Chris was away...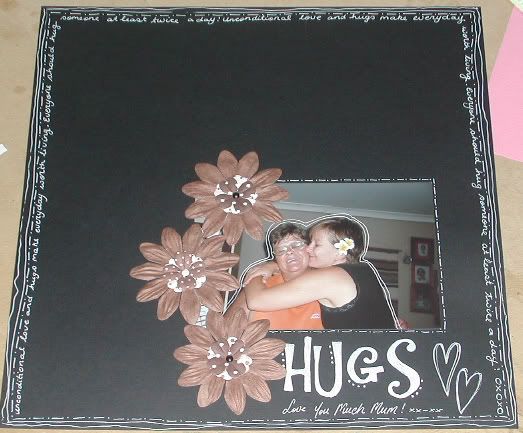 Ok, that's it from me today...till next time!
Happy Scrappin'!!